Electric vehicles (EV), renewables and the battery supply chain have been a dominant market theme over the last 12 months. Although Tesla is not listed on the ASX, there are a number of listed companies which provide exposure to EV's and the battery supply chain.
In this article we will explore several ASX companies who we believe are at the forefront of this investment theme.
As the name suggests, lithium is one of the key components required to create lithium-ion batteries, the driving force behind all things electrical. Fortunately for domestic investors, the resource heavy ASX offers a number of quality Lithium explorers and producers to choose from. Companies like Galaxy Resources (ASX:GXY) & Orocobre (ASX:ORE) have had extraordinary share price runs over the last 12 months. As demand for electric vehicles globally has increased, focus on the battery supply chain has grown. Interestingly, the recovery in the underlying lithium price happened after the Galaxy's and Orocobre share prices began to move.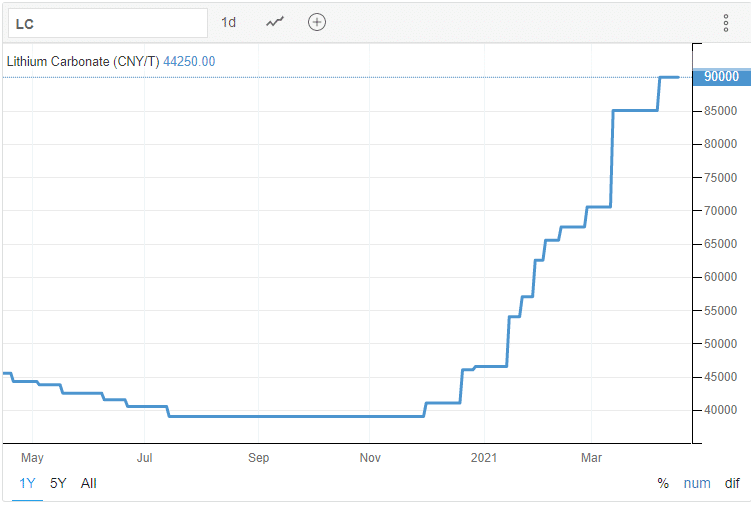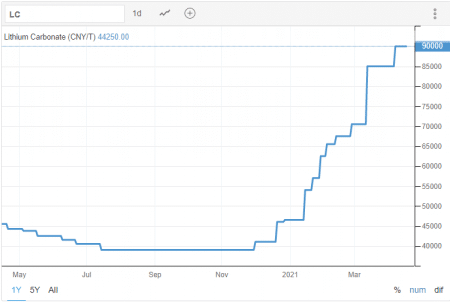 Source: Trading Economics
This week ORE released an announcement to the market stating that for the June quarter they are expecting prices of $7400 a tonne. The highest price received since June 2019. Over the last couple of weeks both ORE and GXY have broken out of their recent bases and have been heading higher.
One lithium explorer we are watching closely is Jindalee Resources (ASX:JRL). JRL released its mineral resource statement this week which confirmed it's lithium deposit, McDermitt, as the largest lithium deposit in the USA.
The market's reaction was overwhelmingly positive, closing up 86% on the news, a move which demonstrates investors' enthusiasm towards quality lithium discoveries. The resource hosts an inventory of 1.43 billion tonnes at 1,320ppm Li for total of 10.1 million tonnes Lithium Carbonate Equivalent (LCE) at 1,000 ppm cut-off grade (COG). Still early in the project development lifecycle, we see significant exploration upside through further drilling as the resource remains open.
Our main attraction to JRL is not only the size and scale of its resource, but also JRL's strategic location. As the US attempts to secure its battery supply chain away from China, we view a large-scale lithium resource on US soil as extremely strategic. For reference, the extract from JRL's 2020 AGM presentation illustrates JRL's proximity to US battery giga factories. We look forward to further drilling results and a potential scoping study in the June Quarter to further de-risk the project.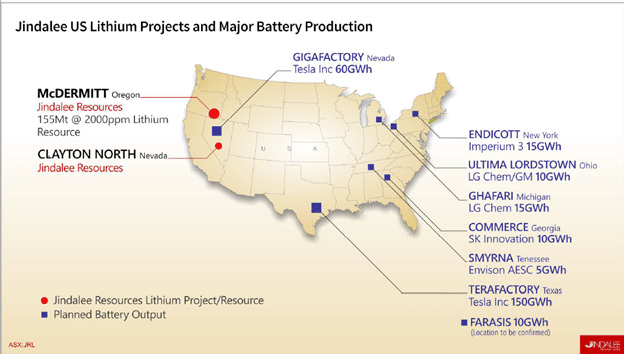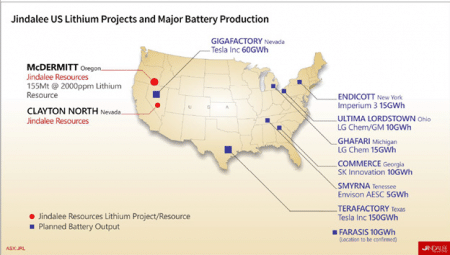 Another company worth noting is Vmoto (ASX:VMT). VMT is an ASX small cap focused on the production and distribution of electric scooters. VMT is about as close as you can get to owning a pureplay EV producer on the ASX. With revenue of $61 million in FY19 it doesn't quite stack up to Tesla's numbers but the top line year on year growth of 34% is still impressive.
VMT has three key sales strategies, business to consumer (B2C), business to business (B2B) and rideshare solutions. For its B2C category, VMT has its own brand EMAX and the exclusive distribution rights of the Super Soco branded bikes (outside of China). The B2B focuses primarily on electric scooters used for delivery, the bikes they are producing are certainly no vespas but with two batteries and a range of 100kms they can deliver a few pizzas. VMT has a global sales strategy with 46 international distributors and a key distribution centre in the Netherlands. VMT has also recently entered an MOU with an Indian company, 'Bird Group'. If the MOU is executed, it would provide revenue of over $13mn for the first year of production. We view India as an important market for VMT to penetrate as it is the world's largest two-wheel vehicle market.
We are keeping a close eye on the upcoming quarterly report for commentary on order growth and any developments with the 'Bird Group' MOU.
Download the full report by clicking the image below.