In May, we witnessed the majority of cannabis-related stocks continue to sell-off. This trend has continued into the start of June. However, there does seem to be a shift in sentiment with cannabis ETFs such as Nasdaq listed Global X Cannabis (POTX) and Arca listed ETFMG Alternative Harvest ETF (MJ) pivoting from their lows in mid-May. Since then, they are up 23% and 12% respectively.
Unfortunately, the ASX has not seen the same bounce. During May, most cannabis-related stocks have either ranged at current levels or have continued to drift lower. More recently, one ASX-listed cannabis business that has seen a bounce is Ecofibre Ltd (ASX:EOF).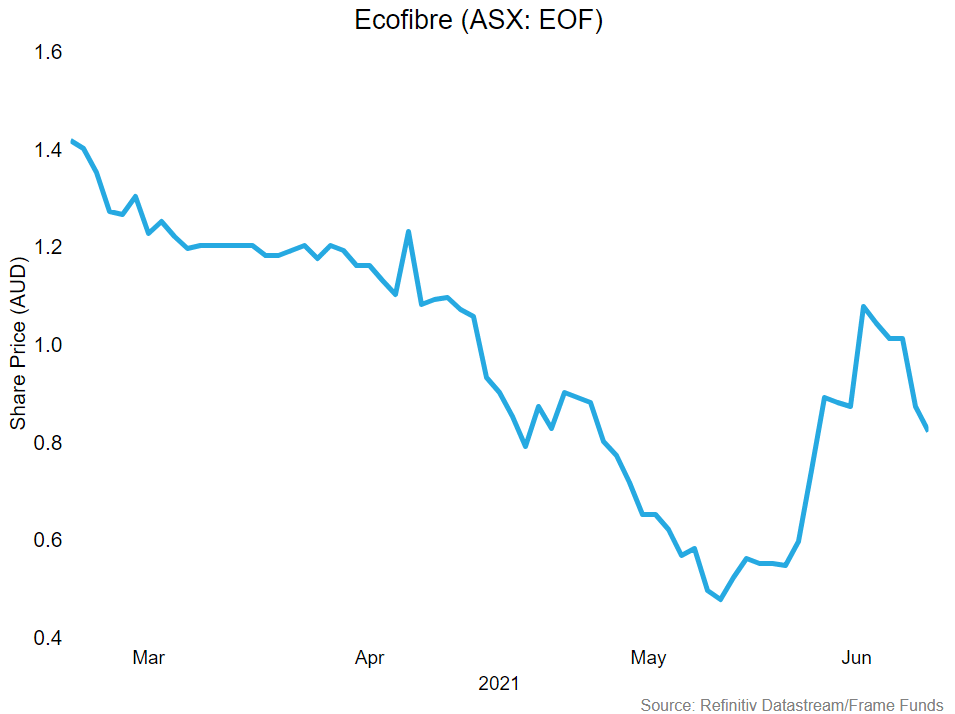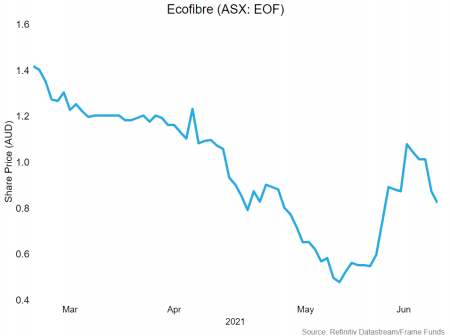 Ecofibre has recently surged over 100%, however, they haven't released any significant announcements since 12th May 2021. The catalyst for this surge can be attributed to the general sentiment change in the Alzheimer's space after Nasdaq listed Biogen Inc. (Nasdaq:BIIB), was given FDA approval for its Alzheimer's drug (the first approval in almost 20 years). Ecofibre has ongoing clinical research that is in Phase II, which focuses on the agitation of patients with Alzheimer's, using cannabidiol (CBD).
Although there is no direct link between Biogen and Ecofibre, it put a spotlight on the endless number of possibilities that can come from cannabis research and development.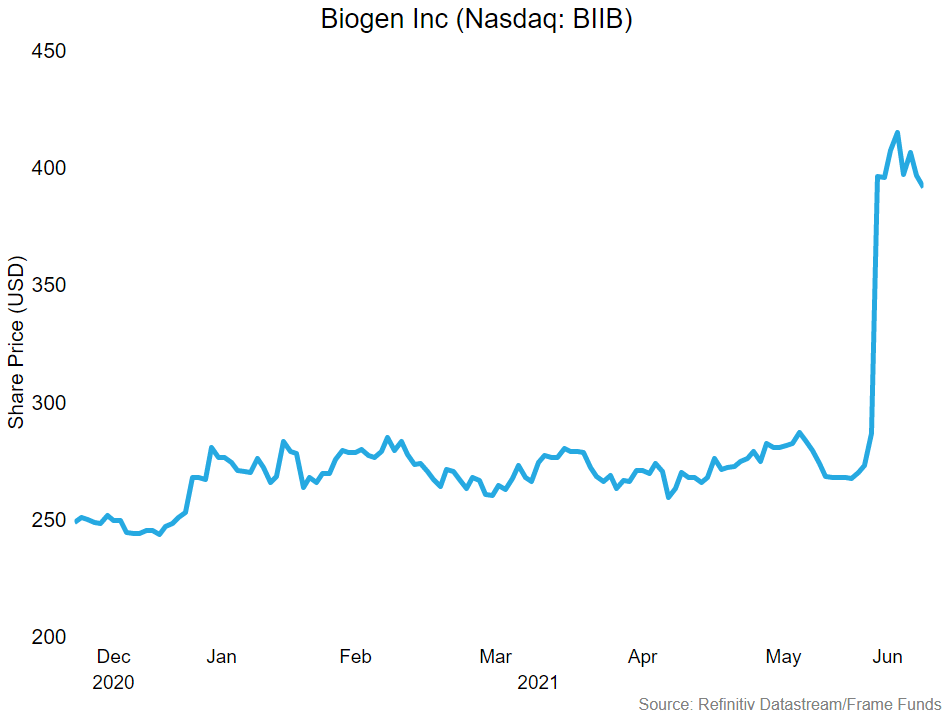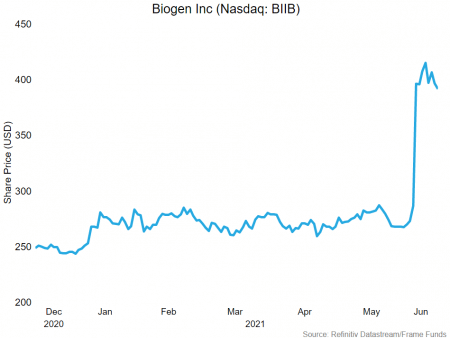 These possibilities are not limited to just Alzheimer's, but for use in the treatment for mental health, cancer treatments, and several other medical practices to name a few.
There is no guarantee that cannabis research and development will yield any advanced results, however, we have continuously seen developments occur within medical and pharmaceutical fields, which continue to justify research and testing.
At the start of June, we also saw other notable news from the ASX-listed cannabis business, Creso Pharma Ltd (ASX:CPH). They announced that they had completed a dual listing on the US OTC market. This listing is noteworthy as the US has a large retail investor base, which increases the access Creso has to capital markets for future expansion.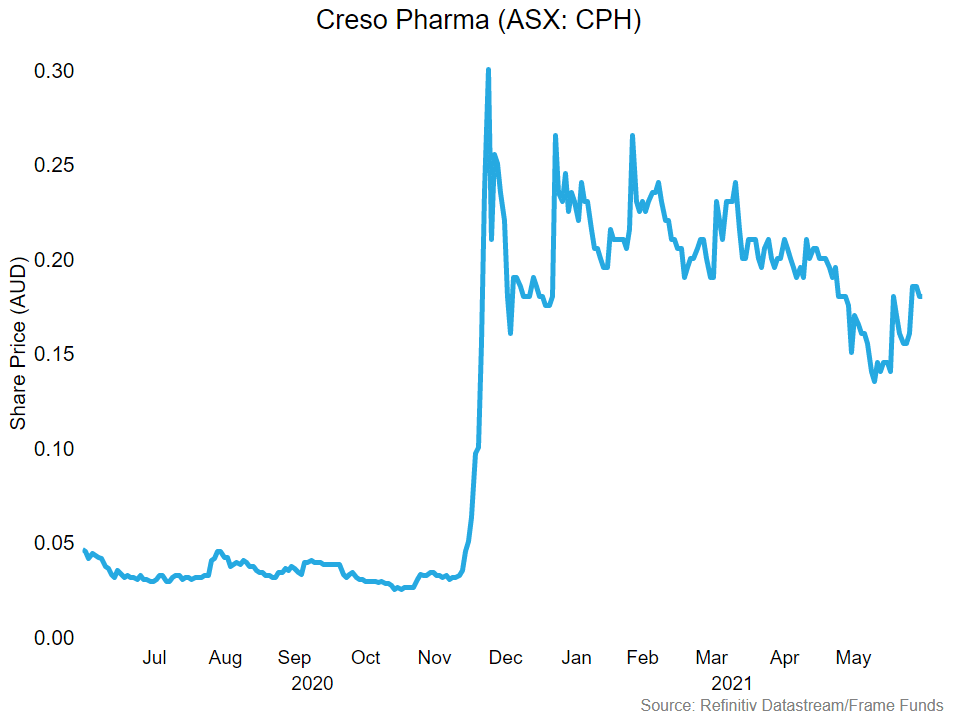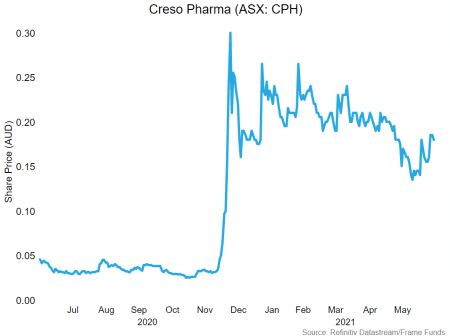 Furthermore, Creso saw a spike in the volume traded. On the 3rd June 2021 it traded $15.5M which was almost seven times the value traded of the previous day. It finished up 28% intraday. Again, this is significant as it brings more investor focus towards the sector.
Cannabis has always been seen as a speculative investment, due to its heavy regulation by governments and large retail investor following. However recently, the developments mentioned in our Market Insights section, provide positive news which should compel investors to monitor these businesses as the aforementioned developments unfold.
Download the full report by clicking the image below.