Aeris Resources (ASX:AIS) Update
In last month's 'Companies in Focus' where we covered Aeris Resources (ASX:AIS). Since then the company has provided numerous updates which we will cover here.
Aeris is a mid-tier diversified miner, with two wholly-owned assets – the Tritton Copper Mine, and the Cracow Gold Operations. Further to this, Aeris has an additional two joint ventures, the Canbelego JV (30% stake) with Helix Resources (ASX: HLX), which is predominately testing for copper, and the Torrens JV (70% stake), which is exploring for iron-oxide copper-gold (IOCG) deposits.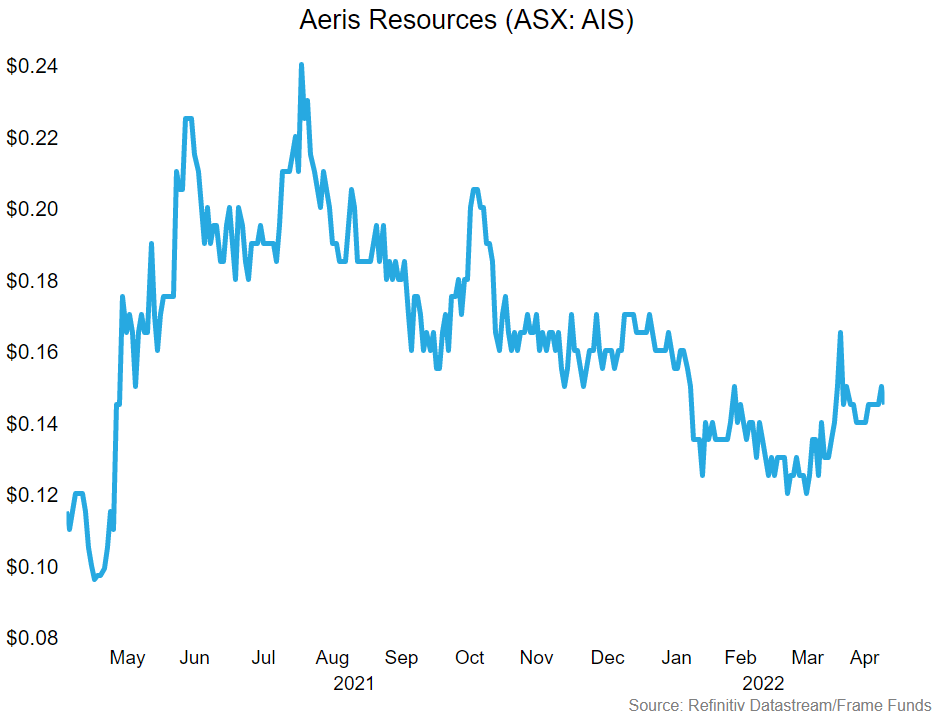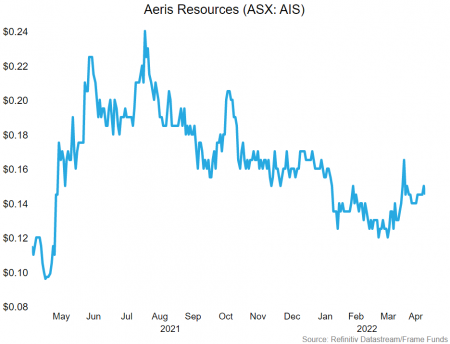 Updates
During March, Aeris released a collection of price-sensitive updates pertaining to its' current operational mines and results orientated around its' exploratory joint-ventures. The company announced that the construction of the Avoca Tank underground mine (Tritton) is underway, with completion expected in Q4 FY23. Further to this, the connected exploration drill program for potential mine-lifecycle extension, has delivered promising results with copper found beneath the current mineral resource.
This was followed by a joint-announcement at the Canbelego JV (with ASX: HLX), which confirmed the presence of two new lodes, with the potential for a third, with varying levels of quality (0.38% – 3.18% Cu). This was also taken as a proof-of-concept of the 'Cobar-Style' exploration model which focuses on parallel, structurally controlled lode positions.
In the corrected update for the Tritton Copper Operations, AIS reaffirmed its FY22 production guidance, and tipped that its copper production target would increase to over 30kt p.a. in FY25 (20-22kt FY23, 21-23kt FY24, 30-33kt FY25). Based on known deposits, mine life is expected to be greater than 8 years, however further life of mine extension may occur from current exploration projects.
For one of the exploration zones in the Tritton tenement, the Kurrajong deposit, Aeris announced that its drilling program is underway. With initial drill holes supporting the current geological model for a maiden Mineral Resource – assays pending.
Outlook
As we look ahead at Aeris's operational activities, we see a few key catalysts surrounding the company's financial performance. The completion of the Avoca Tank underground mine in Q4 FY23, along with the results from further drilling in the resource scheduled for post-FY22, will be key in solidifying future progress at Tritton. 
In addition, we look to monitor further exploration updates from Helix at the Canbelego JV, and at the Kurrajong deposit. Further information surrounding the composition and quality of this deposit is anticipated.