Complii FinTech Solutions (ASX: CF1)
Complii FinTech Solutions (ASX: CF1) is a compliance-centric technology company focusing on the transition from paper-based compliance systems. Their core product automates the sending of a Statement of Advice (SOA) and Records of Advice (ROA), 708 investor certificate expiry, Future of Financial Advice (FOFA) letter auto-generation, along with managing operational walls and internal compliance. Their product offering also extends to its client relationship management system and their recently released 'Corporate Highway', which provides a platform to place deals for integrated brokers and Australian Financial Services Licensees (AFSL), along with underlying users to bid on.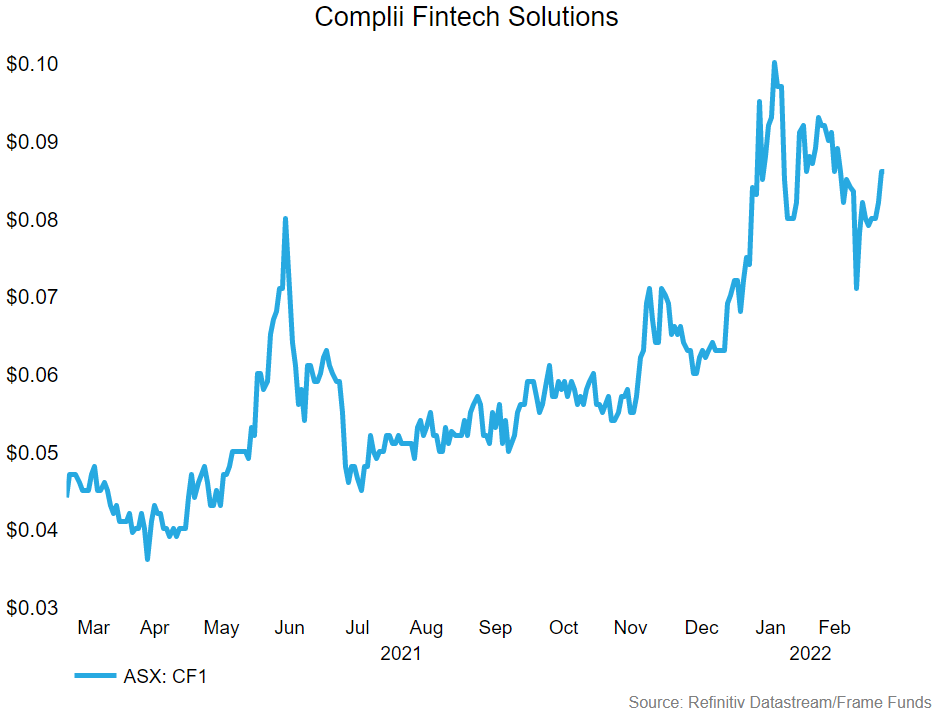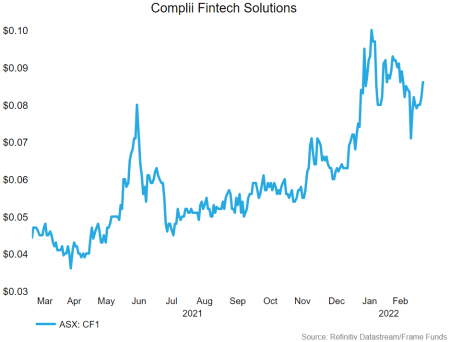 Fundamentally the company's development-orientated focus, a recent acquisition, and market share have provided it with the ability to increase its ongoing revenue and recently, become cash flow positive. The recent acquisition of Primary Markets was a significant driver in transactional and ARR revenue growth. Even though CF1 only accounted for the Primary acquisition for about a third of its' reporting period, Primary contributed significantly to their reported revenue. 
Complii's near-term growth hinges on the growth of their recent acquisition, Primary Markets. The continued rolling out of its core product across AFSL holders will also allow for cross-selling of its current product offering. We also look keenly to monitor the company's proposed expansion into Asia – namely Singapore and Hong Kong. We look forward to the upcoming FY22 report to see if the integration of Primary has run ahead of expectations. 
Aeris Resources (ASX: AIS)
Aeris Resources (ASX: AIS) is a mid-tier diversified miner, with two wholly-owned assets – the Tritton Copper Mines, and the Cracow Gold Operations. Further to this, Aeris has two joint ventures, the Canbelego JV (30% stake) with Helix Resources (ASX: HLX), predominately testing for copper, and the Torrens JV (70% stake), which is exploring for iron-oxide copper-gold (ICOG).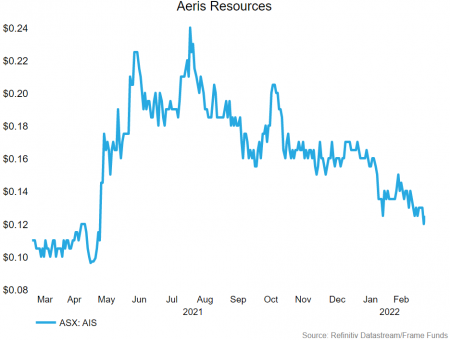 Due to the current macroeconomic theme of increased demand for base metals, AIS has focussed its attention on its copper assets. Globally, there is a restricted supply of copper due to a lack of new, high-grade deposits. These factors, in combination with the transition to renewable energy (copper is a key component to battery production), ensure that copper should remain well bid moving forward.
The 100% owned Tritton Copper deposit looks to produce between 18.5-19.5kt at an AISC between $4.60-$4.85/lb. Cracow is targeting to produce between 64-66koz at an AISC between $1,650-$1,700/oz. In our view, their guided AISC and production numbers should be hit (pending disaster), so any additional resource expansion, commodity price rise, or deposit acquisition, should be viewed positively by the market.
Poseidon Nickel (ASX: POS)
Poseidon Nickel Limited (ASX: POS) is a nickel sulfide development and exploration company with three operational projects near Kalgoorlie. Specifically, Poseidon owns the Black Swan, Mt Windarra, and Lake Johnston Nickel Sulphide projects, two of which contain processing plants. Future projects include the construction of a gold reprocessing facility, although, with an increased focus on Nickel, the company is seeking a joint venture partner. Although Poseidon is considered a pure-play nickel miner and producer, its' Mt Windarra site contains a ~180koz gold resource.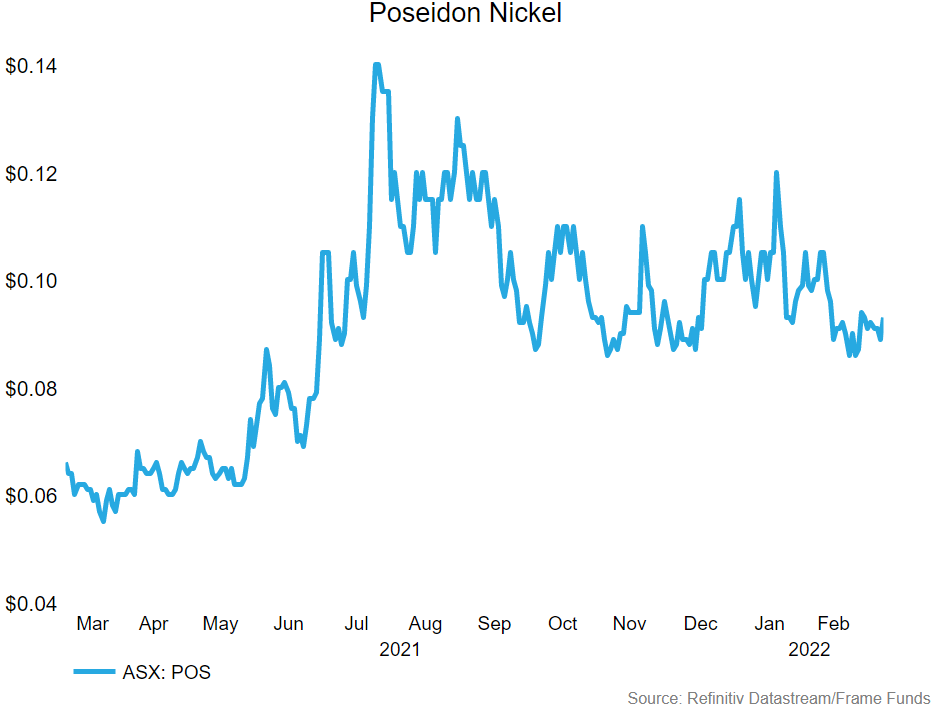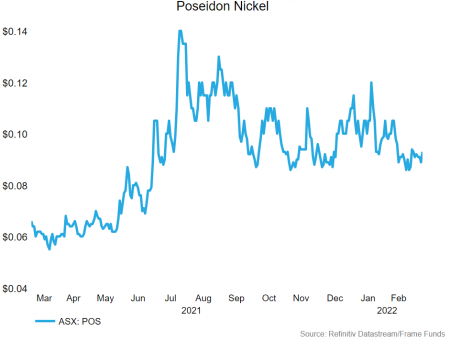 The macroeconomic rationale for Poseidon is similar to Aeris Resources (AIS). Nickel is a key component of battery production, while also being a key input for stainless steel production (used in infrastructure). The Nickel price has climbed significantly over the last 12 months, which makes the feasibility studies of the Black Swan project better, which in turn improves the outlook for the business of Poseidon. Recently, with the invasion of Ukraine, the Nickel price has soared. This is due to Russia and Ukraine being key global producers of the metal. With sanctions being placed on Russia, further disruptions to the global supply of Nickel are anticipated. Although painful in the short term, a move away from Russian reliance on these metals is anticipated and should benefit Poseidon.
Looking forward, we await the results of increased production at the Black Swan project, and the conversion of Golden & Silver Swan resources into JORC defined resources. Further drilling results where high grades of Nickel are found may also provide a catalyst to further price rises.