The advent of COVID-19 proved to the world that to maintain any semblance of normal living, technology was inescapable. The big tech winners of the pandemic have been widely documented with the likes of Kogan (ASX: KGN), Zoom (US: ZM) & Afterpay (ASX: APT) leading the way.
As the world begins to emerge from the pandemic these companies have begun to experience changes in sentiment as investors question whether their growth will continue.
In this article, we will explore companies that are not traditionally associated as big COVID winners but whose investment in technology has allowed them to navigate the COVID-induced recession, and in our opinion has set them up to become leaders in a post-pandemic world.
Adairs Limited (ASX: ADH)
The first company we have spoken about previously and we think is worth keeping an eye on is Adairs Limited (ASX: ADH). Adairs is a homewares and furniture retailer with over 160 stores nationwide.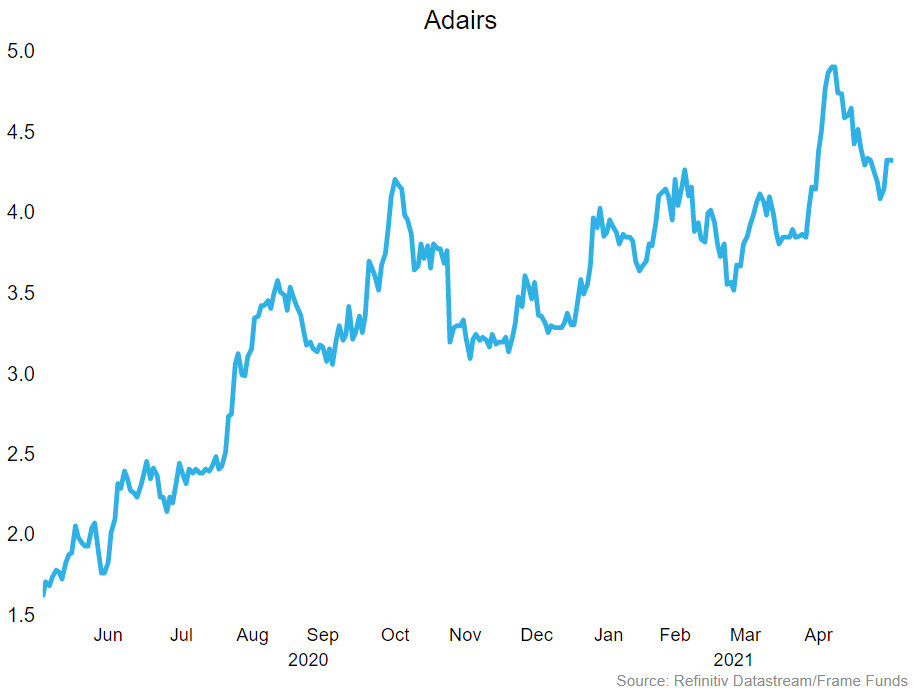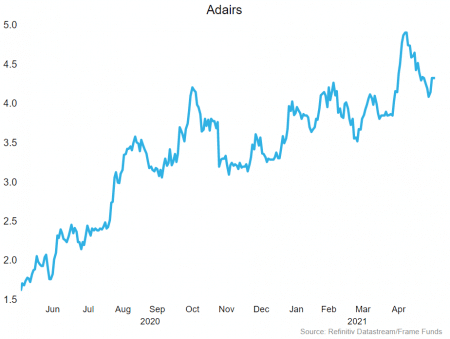 You may be wondering why we are talking about a homeware store selling bedsheets in a piece on technology. The reason is that Adairs online sales have been skyrocketing in part due to COVID but mainly due to some savvy investment in its online presence and online sales channel. Through this investment, ADH was able to stay afloat during the COVID lockdowns and even take market share away from its competitors, who were not able to offer the same level of service to their clients online. Adairs now runs a compelling omnichannel strategy which we believe is defensible and offers good prospects for growth.
Adairs is separated into two vertically integrated business units, Adairs & Mocka. Adair's bought Mocka, a New Zealand-based online pure-play retailer in 2019. In our view, it was this investment into Mocka, and the capital spent developing its online store that allowed Adairs to survive the 2020 COVID lockdowns, which shut many of its brick-and-mortar stores nationwide.
By developing a robust omnichannel strategy Adairs was able to cater to its existing 'in store' clients online and gain new market share by servicing their competitors' clients, who were unable to provide the same polished online experience. The chart below taken from Adair's 1H FY21 results presentation shows the transformation of the sales mix for the Adairs group over the last 4 years.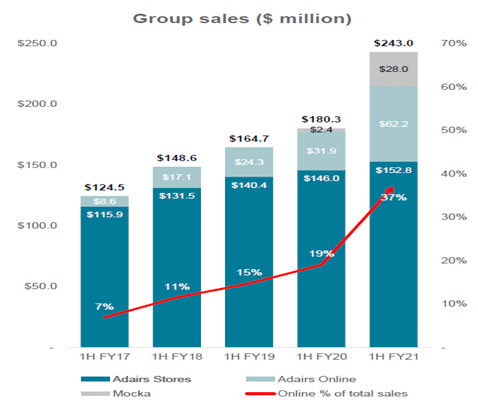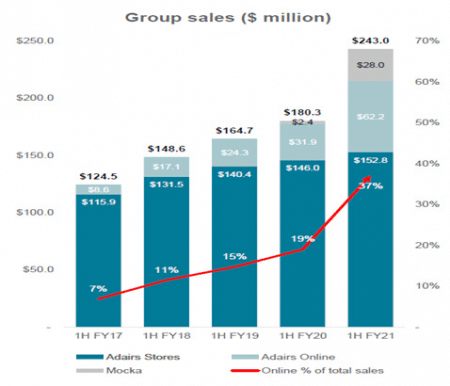 Aristocrat Leisure Limited (ASX: ALL)
Aristocrat Leisure (ASX: ALL) is a company that's business would have been annihilated by the COVID pandemic if it had not invested heavily in technology to diversify its revenue streams. Aristocrats' primary business is selling poker machines.
What many people may not know is that to diversify its revenue streams Aristocrat invested heavily in online gaming. Around half of these games are related to social casinos, but a large portion of Aristocrat's digital profits arises from mobile phone games, like its widely popular role-playing game Raid – Shadow Legends. An extract below from Aristocrat's most recent results illustrates Aristocrat's digital portfolio.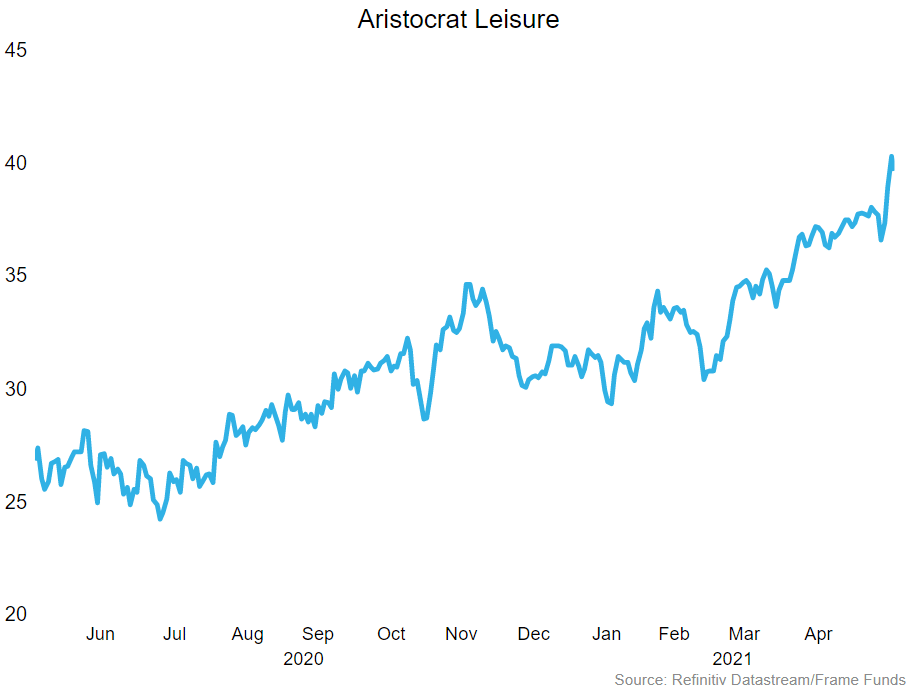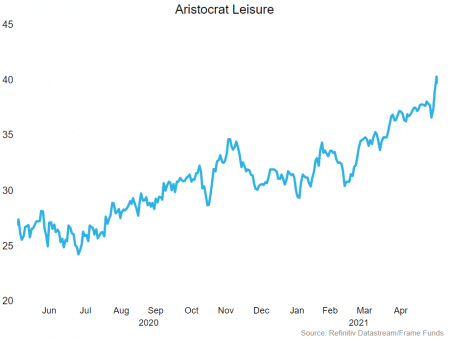 This week, ALL announced a 1H21 results preview, with numbers that blew most analysts' expectations away. Although the results are unaudited, Aristocrat guided to half-yearly EBITDA of $750mn, which represents growth of 6% on the previous corresponding period.
Although the growth is not massive, the fact that they were able to generate any at all is to be commended, given that the large portion of Aristocrat's revenue comes from the North American market. COVID 19 was rampant throughout North America which resulted in the closure of casinos nationwide. ALL managed to grow their digital business significantly through the pandemic, which now makes up over 50% of Group revenue. Without this investment and innovation in technology. Aristocrat would have reported markedly different numbers this week.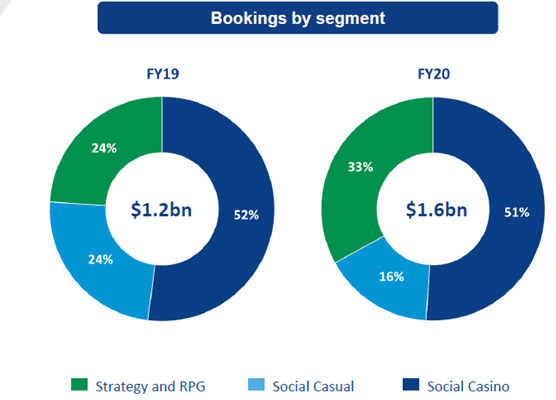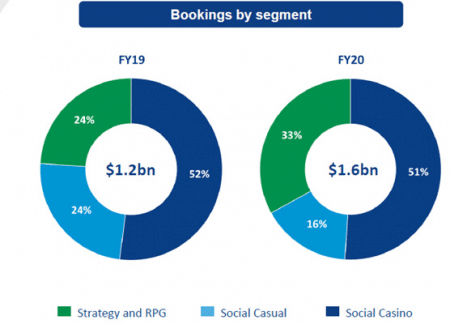 An extract below from Aristocrat's most recent results illustrates Aristocrat's digital portfolio.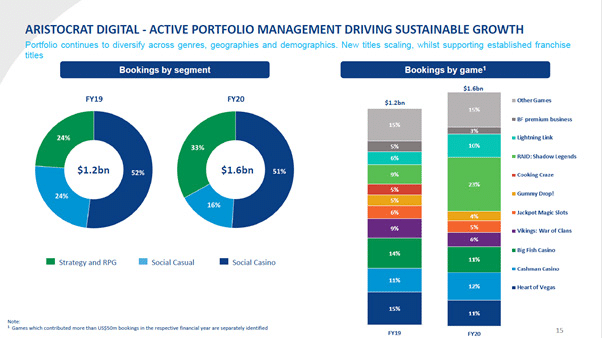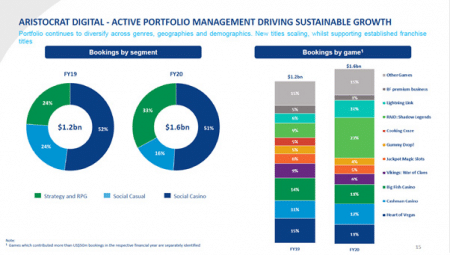 We expect Aristocrat to continue to perform over the long term given its ongoing investment in technology and product innovations.
In addition, we anticipate that Aristocrat will soon hold a net cash balance, which will present a real opportunity for Aristocrat to expand through acquisition or a return of funds to investors.
Despite the excellent fundamentals, we do view Aristocrat as a high-risk investment given its exposure to an ever-changing regulatory environment. It is also not an investment for everyone as the nature of the business may conflict with the view of some individuals.
Summary
As evidenced by the Aristocrat and Adairs business model's, technological investment is imperative and inescapable for business. It provides both innovation and defensibility to corporate revenues.
The benefits of technology investment are clear, there are some risks. Perhaps the greatest to online technologies, is that they are susceptible to malicious behaviour, such as cyber-attacks.
Although we are currently dealing with the worst pandemic in living memory, a destructive virus targeting critical tech infrastructure globally could have terrible consequences, that match or even exceed the economic turmoil caused by the pandemic. We saw a glimpse of this over the last few weeks where hacker's shutdown the Colonial pipeline. This pipeline provides nearly half of the United States' east coast fuel supply.
Despite this, we firmly believe that the benefits of technological investment firmly outweigh the risks.
Download the full report by clicking the image below.