In January 2020, we published an article titled "2020 Investment Themes & Opportunities". The fifth theme we identified in this article was "Battery metal turnaround" and how it seemed the markets view of this sector was pivoting.
The following will provide an update on this theme and how it is currently unfolding 6 months after identification.
Summary
In the January 2020 article, we noted elevated investor exuberance towards Tesla Inc. (rising from $299.68 to $537.92 after their earnings report release on 24/10/19) had flowed through to the supply chain of battery metal producers and developers, namely Galaxy Resources Limited (ASX:GXY), Orocobre Limited (ASX:ORE), Pilbara Minerals Limited (ASX:PLS) and Syrah Resources Limited (ASX:SYR) (up 52%, 63%, 39% and 80% respectively from 24/10/19 to 14/01/20).
Year to date, Tesla Inc. has risen from $418.50 to $944.50 (as at 08/06/20). Several factors can be attributed to this price rise – their expansion into China, a short covering rally and a continued pivot towards electric vehicles, among others. The continued increase in the Tesla Inc. share price has once again flowed through to the supply chain battery metal producers and developers. GXY, ORE and PLS have all risen 17%, 6% and 32% respectively, with SYR declining 12.77%, during the same period.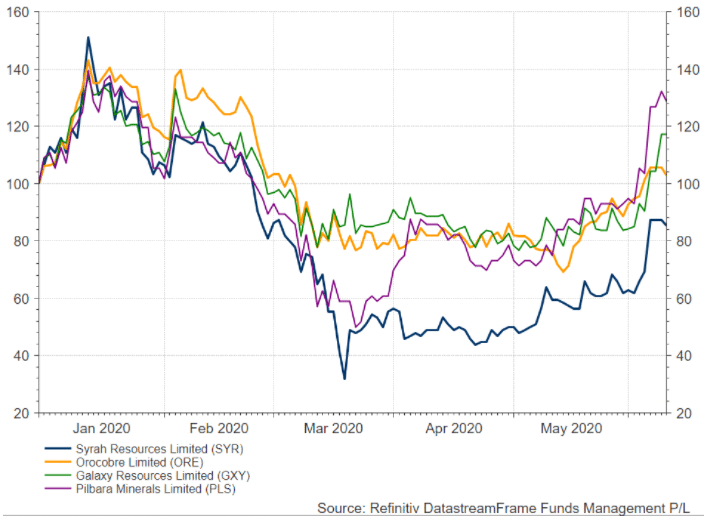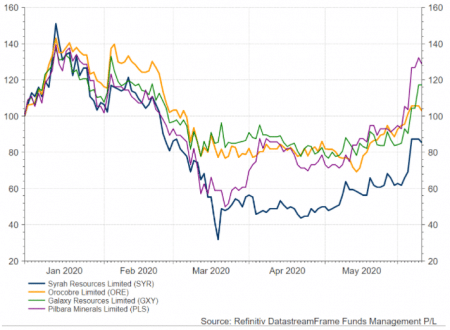 New Developments
The recent price action seems to have different characteristics than the rally we witnessed between 24/10/19 and 14/01/20. During this period, we saw aggressive buying over a relatively short period of time without a significant change in the level of short interest. We also failed to see a fundamental shift in the way these businesses were attempting to solve the issue of over supply within the battery metals market.
Now we have seen consistent buying in the market, with the largest short sellers of these companies gradually reducing their short positions (see below). Most importantly however, we have seen two fundamental changes within their businesses. Firstly, they have reduced their production to match the drop off in demand caused by COVID-19 and secondly, they have implemented new cost-savings programmes to maintain profitability while the market over-supply exists.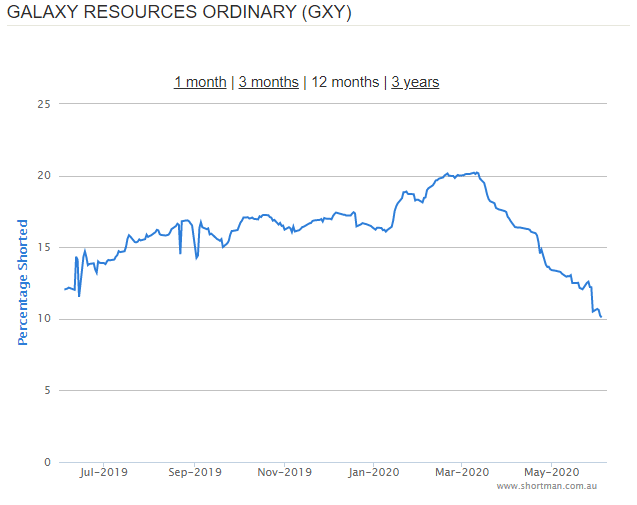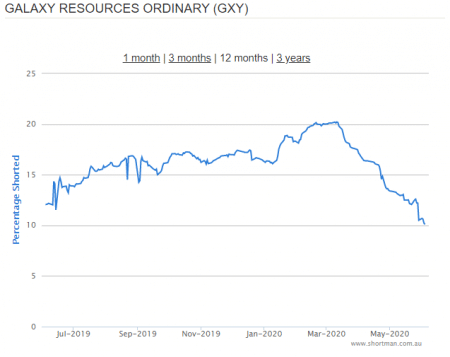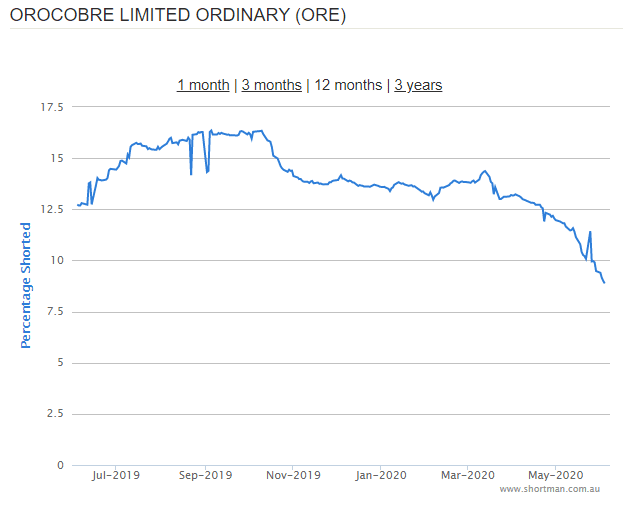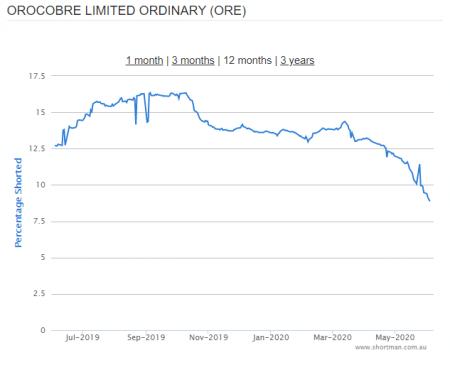 From a macro-economic perspective, the most recent vehicle sales data released from China showed positive signs of a rebound. China Passenger Car Association (CPCA) reported that Tesla delivered a record 11,095 made-in China Model 3 vehicles in May. They also reported that vehicle sales in China rose 12% in May to 2.14m units.
From a geopolitical perspective, United States Senator Ted Cruz of Texas and Senator Lisa Murkowski of Alaska recently passed legislation to offer compelling tax breaks for new projects and large tax incentives for domestic rare earth suppliers, in an attempt to wean themselves off Chinese material dependency. This follows on from President Trump's 2017 executive order seeking to ensure supply of critical minerals occurs. The combination of these factors should work in favour of GXY, ORE, PLS, SYR. Syrah Resources for instance has a Battery Anode Material Project in Louisiana, USA.
Conclusion
We believe that we have started to see signs that the medium-term trend of this theme is turning. While short interest in these companies is still elevated, we are beginning to see it reduce as investors start to cover their positions. We expect this trend to continue as prices of these businesses increase, meaning a short squeeze is one anticipated scenario.
Technically, we see these businesses have recaptured their long term down trends, where their price is now greater than their 200 period daily moving average.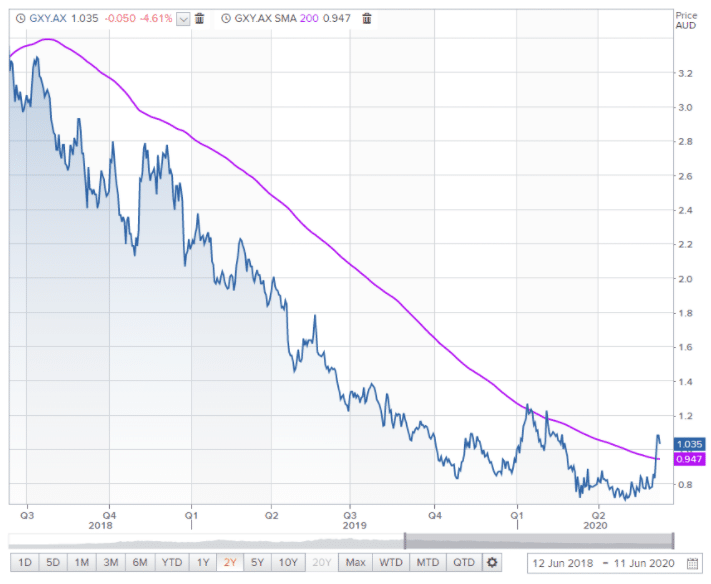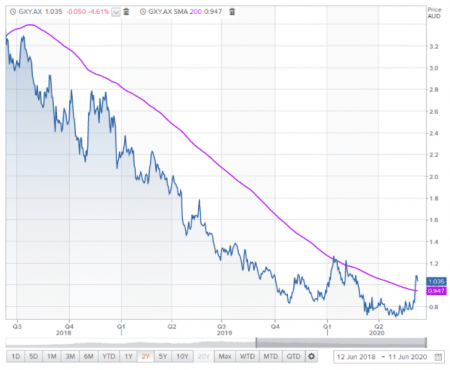 Finally, we note the fundamental adjustments and cost cutting programmes these businesses have made as market demand decreased due to COVID-19. All of these factors seem to be pointing to this theme starting to play out as we move into the second half of 2020.