The COVID-19 pandemic bought on an onslaught of panic selling in financial markets, followed by an aggressive recovery that was predominantly led by technology focused companies. Almost anything that could be transitioned online was and businesses that led the charge in adapting to the new socially distanced way of living thrived. Years of technological development was crammed into months as we saw a variety of temporary and structural shifts to society and the economy. This article will discuss if we believe these changes were temporary or structural shifts. We also attempt and uncover which segments of the technology market will continue to benefit in a post pandemic world.
Temporary changes
The video communications space was a massive beneficiary of the COVID-19 pandemic. As meetings around the world moved online, we saw a variety of competitors in the space, most notably Zoom Video Communications (Nasdaq: ZM), Microsoft Teams (Nasdaq: MSFT) and Skype for Business (owned by Microsoft). Zoom in particular saw its share price boom as the coronavirus swept across the globe, increasing ~730% from the start of the year to its high in October.
The transition to solely online meetings has not been permanent however and the value of Zoom's shares has suffered as a result. As positive vaccine developments occurred in the final quarter of 2020, Zoom has seen the value of its stock decline by ~45%. While many small interstate business meetings will now be conducted online instead of in-person, we think that the reopening of the economy will see Zoom struggling to recapture its pandemic highs.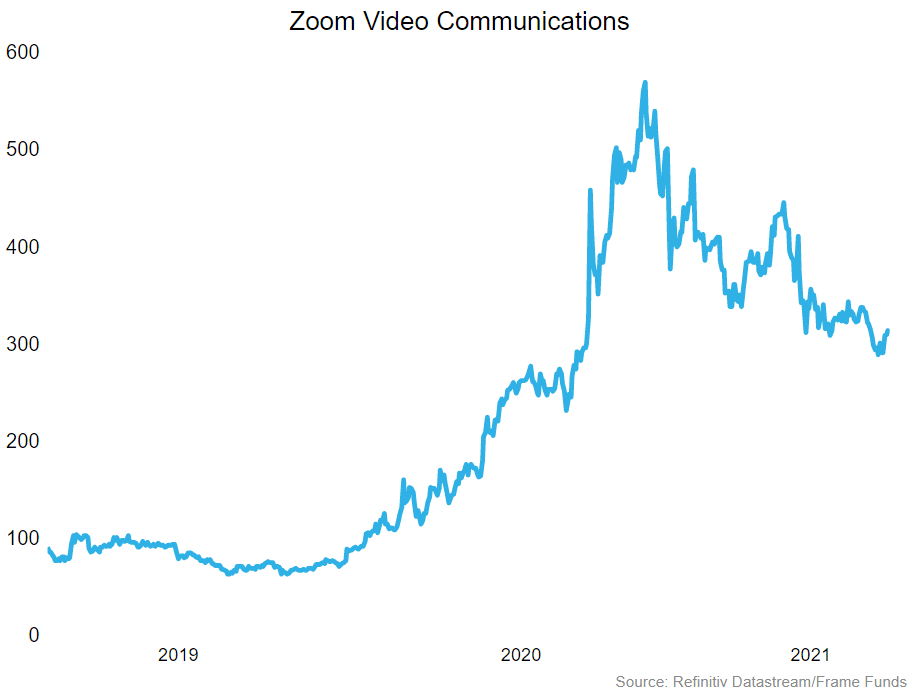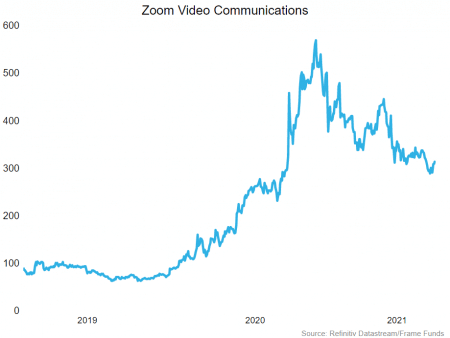 Another sector that seems to have benefitted from the temporary shift to isolated living is telehealth. Teladoc Health Inc (NYSE: TDOC) is a multi-national telemedicine and virtual healthcare company. For the 2020 calendar year, its share price increased ~250%. Business boomed throughout the pandemic with people preferring to consult a doctor online rather than risk exposure to COVID-19 in public.
After reporting disappointing half yearly then quarterly results, some analysts have downgraded expected growth rates and called into question the businesses ability to continue its momentum as society reopens. Shares in Teladoc Health have fallen more than 50% since February 12th and it remains to be seen if it and the telehealth sector more broadly can regain its momentum.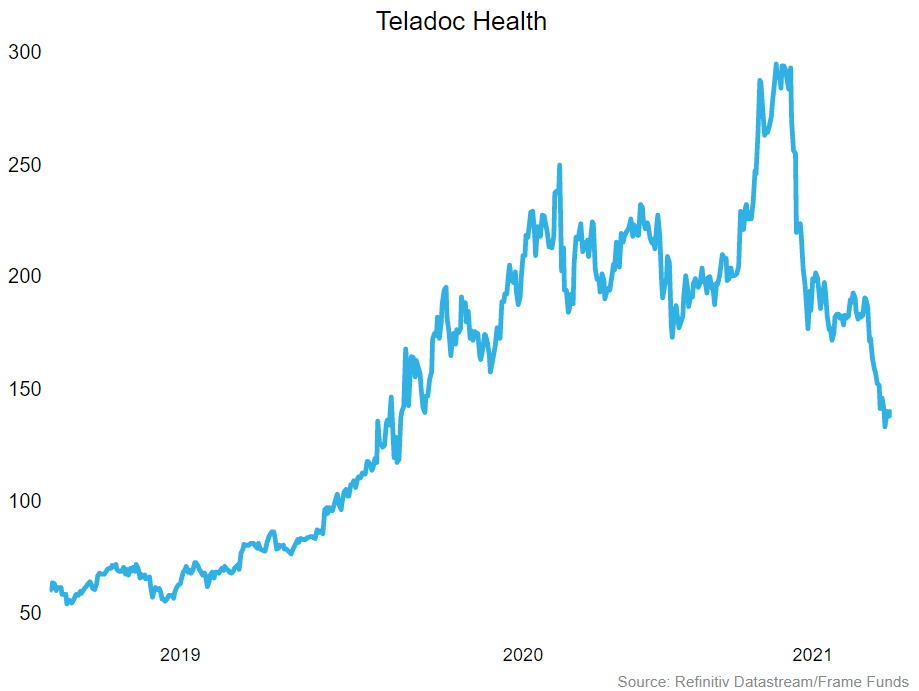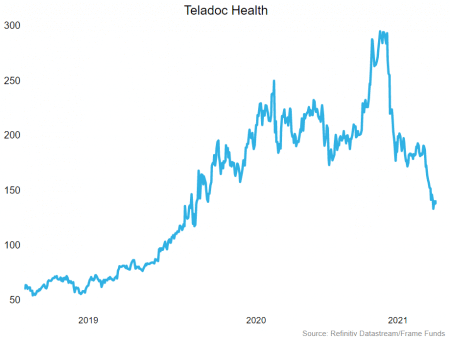 Structural changes
COVID-19 decimated brick and mortar retailers as stores were closed and customers were forced to stay at home. Online retailers flourished as traditional vendors rushed to develop online sales channels. Online retail trade reached all-time highs, with 1.36 million Australians shopping online for the first time in 2020. We believe the forced introduction of the world of online retail has opened eyes to the convenience of sitting at home and having goods delivered straight to your front door. It is evident from seasonally adjusted online retail data that the move to web-based trade has held pandemic highs, even as the economy has reopened.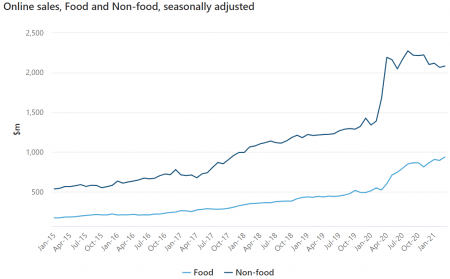 We continue to favour businesses that expanded into the online market in 2020, servicing their existing customer base and picking up new customers along the way. Adairs Limited (ASX: ADH) is an example of one such company.
Another sector we believe has taken advantage of the pandemic and will be able to maintain pandemic performance is video games. With most game developers, publishers and operators able to work from home, the quality and development of games was not hindered during the pandemic. As the population remained housebound in 2020, online gaming saw record numbers of participants – Australia's gaming industry grew to $3.4 billion in 2020, a 6% year-on-year jump. Globally, game sales increased 20% to $180 billion, making video games a larger industry than global film and North American sports combined. The Australian Government has introduced a $1.2 billion plan to boost domestic video game development in their latest budget, aiming to capitalise on recent growth in the industry.
While levels of overall gameplay will inevitably decline as restrictions relax and people begin to eat out and return to the office, Michael Patcher (Wedbush Securities) believes people who starting 'gaming' during COVID will be long term customers. In the United States, companies like Activision Blizzard (Nasdaq: ATVI) have seen the value of their stock rise ~60% from the start of 2020 to present* where it continues to hold 10% from highs.
*18th May 2020
Download the full report by clicking the image below.